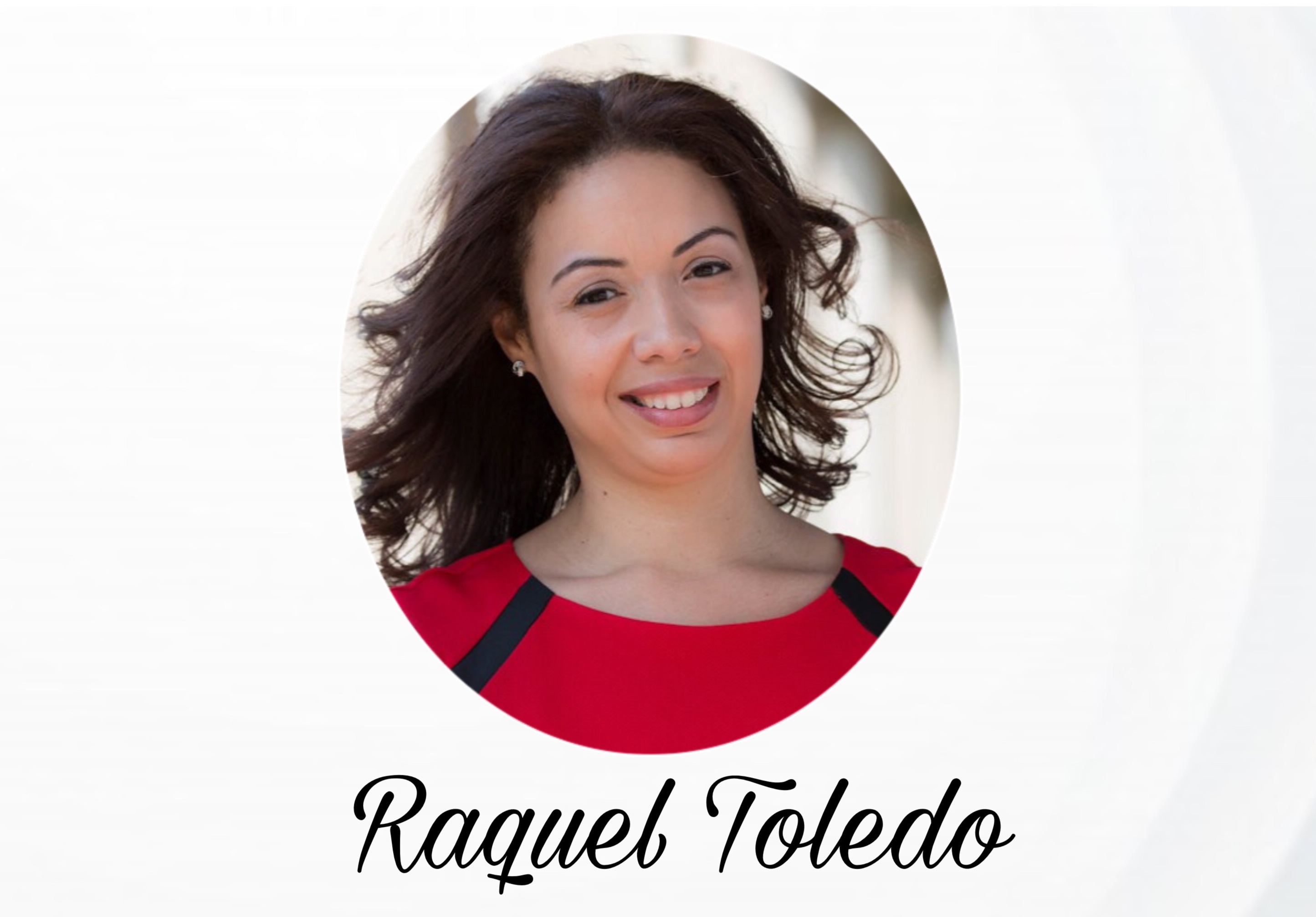 Raquel Toledo,
MA[IUS], M.Ed.
(English Below)
La adversidad ha desafiado a Raquel Toledo a vivir una vida audaz y decidida. Su pasión por vivir la vida sin arrepentimientos la llevó a convertirse en consejera, docente, oradora y fundadora de Un Regalo de Valor.
Lanzado en el 2013,  Un Regalo de Valor es una organización sin fines de lucro que enseña, asesora y empodera a niñas, adolescentes y mujeres para que se valoren, adopten buena moral, superen obstáculos e influyan en sus comunidades de manera significativa. El objetivo de Un Regalo de Valor es que cada joven comprenda la importancia de alimentar su belleza interior mientras construye el carácter. La organización sin fines de lucro ha formado alianzas clave con iglesias, escuelas y universidades para distribuir recursos educativos y organizar eventos, retiros y seminarios.
Una orgullosa graduada de primera generación de la universidad, Toledo recibió su licenciatura en educación de Northeastern Illinois University. También posee una maestría en Servicios Humanos y Consejería de DePaul University y una segunda maestría en Estudios Interculturales y Urbanos de Moody Theological Seminary en Chicago.
Toledo completó su práctica en la organización YWCA brindando consejería a sobrevivientes de asalto sexual y completó una certificación sobre violencia doméstica de 42 horas con la organización Mujeres Latinas en Acción en Chicago. También escribió una tesis que incluye una investigación cualitativa sobre el tema de la violencia doméstica y la iglesia. Este trabajo condujo al desarrollo de la Academia Salva Vida, una campaña que crea conciencia sobre la violencia doméstica a través de talleres y seminarios.
La pasión de Toledo por la enseñanza la ha llevado a través de los Estados Unidos y América Latina como oradora invitada para impartir enseñanzas, talleres y conferencias. Ha aparecido en varias estaciones de radio en América Latina y Chicago, incluyendo Radio Moody en el programa: Día a Día.
En los últimos tiempos, Toledo fue seleccionada como una de los mejores 100 candidatos para los Premios de Liderazgo John C. Maxwell 2016. La edición de Moody Alumni News – Spring 2017 presentó su pasión por educar y crear conciencia sobre la violencia doméstica con un artículo titulado: "Mujeres que sirven en ministerios interculturales y urbanos". Y este año el 8 de marzo de 2018 Toledo fue una de las que recibio el galardonado reconocimiento de "Negocios Now Latinos: 40 under 40." Una organización que rinde homenaje a cuarenta líderes anualmente de la ciudad de Chicago que están sirviendo a su comunidad con pasión, compromiso y entusiasmo.
(English)
Adversity has challenged Raquel Toledo to live a bold and purposeful life. Her passion to live life without regrets drove her to become a counselor, teacher, motivational speaker and the eventual founder of A Gift of Value.
Launched in 2013, A Gift of Value is a nonprofit that teaches, mentors and empowers girls, teens and women to value themselves, to embrace good morals, to overcome obstacles, and to influence their communities in meaningful ways. The goal of A Gift of Value is that every young lady understands the importance of nurturing her inner beauty while building character. The nonprofit has formed key partnerships with churches, schools and colleges to distribute educational resources and organize events, retreats and seminars.
A proud first-generation college graduate, Toledo received her undergraduate degree in education from Northeastern Illinois University. She also holds a master's degree in human services and counseling from DePaul University and a second master's degree in Intercultural and Urban Studies from Moody Theological Seminary in Chicago.
Toledo completed an internship at the YWCA counseling sexual assault survivors and a Domestic Violence 42 hour training with Mujeres Latinas en Acción in Chicago. She also wrote a thesis that included a qualitative research on the issue of domestic violence and the church. This work led to the development of Life Savers Academy, a campaign that raises awareness about domestic violence through workshops and seminars.
Toledo's passion for teaching has taken her across the United States and Latin America as a guest speaker for teachings, workshops and conferences.  She has been featured on various radio stations in Latin America and Chicago including Moody Radio (Radio Moody) Spanish program: Día a Día.
In recent times, Toledo was selected as one of the top 100 candidates for the 2016 John C. Maxwell Leadership Awards.  The Moody Alumni News – Spring 2017 edition featured her passion to educate and raise awareness on Domestic Violence with an article titled: "Women serving in Intercultural and Urban Ministries." And this year on March 8, 2018 Toledo was one of the awardees for the Negocios Now Latinos – 40 under 40 awards.  An organization who honors forty leaders annually in the city of Chicago who are serving their community with passion, commitment and enthusiasm.